Welcome to the Web site of composer and conductor Robert Pound.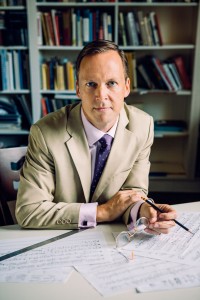 Pound's compositions include chamber, orchestra, band, vocal, and choral works, works for professional musicians, as well as works for young musicians.  You are invited to listen to samples of his compositions and to preview excerpts of the scores.  There is also a complete catalog of his compositions, their instrumentation and durations.
Pound's conducting experience includes the ongoing role of Director of the Dickinson College Orchestra, a guest performance with the Atlanta Symphony Orchestra, guest performances with the Verge Ensemble and, formerly,  the role of Music Director of the West Shore Symphony Orchestra.
Currently in the works: two recordings of song cycles to be released in 2018; a sonata in memory of pianist Lloyd Arriola.